How to Add Watermark in Windows Video Converter
Watermark is a mark which could be text, picture, video and animated gift. Well-made watermark can not only not influence the effect of the original video, but also can identify authenticity and protect copyright.
Step1:Open tool
1. Click "+" in the dashed wireframe to add the media file.
2. Click "
Tools" at the top right of the form to open the tool "Watermark".
3. Then it automatically jumps out of a window to add watermark to the video.
Step2:Add watermark
1. Click the
and
icon to respectively add Text watermark and Picture/video watermark. Then it will automatically displayed in the textbox and in the middle of the video.
2. Mouse over the edge of the yellow wireframe and drag it to where you want it to be.
3. Double-click the text in the text box or click the watermark in the video to change the characters if you add text watermark.
Step3:Adjust watermark options
1. Click the name of watermark in the textbox.
2. Drag the round button to set duration and the opacity of the watermark. The range of opacity could be adjusted in 0.00s ~ 10.00s.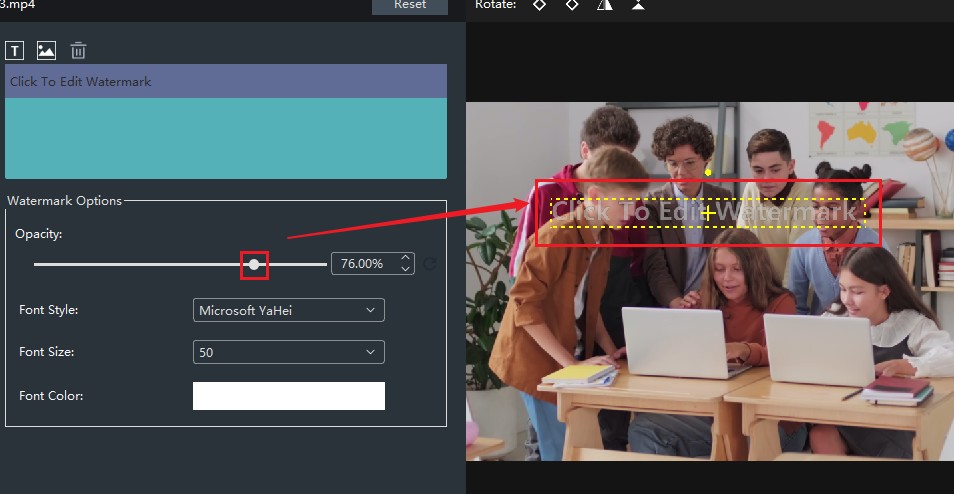 3. Scroll bar to view and select the appropriate Font Style and Font Size. Click the white textbox next to the font color to open palette.
Tips:
1. To get the video back to the beginning, click "Reset" to the right of the top left video name.